ETC Source Four Tungsten 750W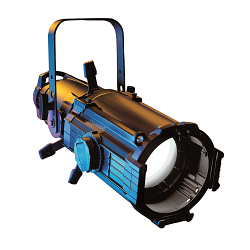 Source Four tungsten combines the energy-saving power of the patented HPL lamp, with a dichroic reflector and optical-quality lenses, for the coolest beam on the market.
No other light offers such optical brilliance. Source Four's revolutionary technology gives you a clean white beam for unequaled imaging, crisp pattern projection, and a bright, even field.

Available with the following lens options:
15/30 Degree Zoom
25/50 Degree Zoom
19 Degree Fixed
26 Degree Fixed
36 Degree Fixed
50 Degree Fixed


Product Features
Rated up to 750W
Super-efficient HPL lamp
Faceted dichroic reflector removes 90% of IR heat from beam
Interchangeable lens tubes
Rotating barrel ± 25º
Three-plane stainless-steel shutter blade assembly
Tool-free lamp adjustment
Insulated rear handle
Rugged die-cast aluminum construction