NEWS / Stock Update - Litepanels Gemini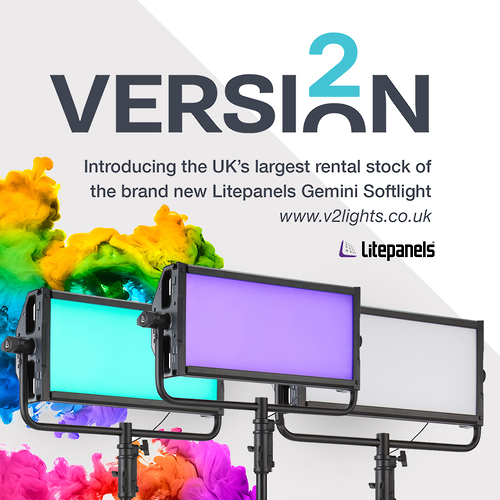 Version 2 Lights deliver LED precision, versatility and colour with Litepanels Gemini softlight
Broadcast and event lighting rental specialists, Version 2 are pleased to introduce the latest addition to their range of low energy lighting products, the new Litepanels Gemini LED 2 × 1 softlight fixture.
Created specifically for use in the film, television and media industries, the Gemini's intuitive onboard control system features three fully featured lighting modes capable of delivering virtually any colour; CCT Mode for true daylight and tungsten with +/- green fine tuning, HSI Mode for total control over hue, saturation and intensity to create any colour in the 360° colour wheel at any intensity from 0-100% and Gel Mode to easily replicate the industry's most popular gel sets with a daylight or tungsten source.
Compact, controllable and precise, the Gemini is a versatile, consistent, flicker free soft source. Perfect for the provision of beautiful, even illumination when used either as a single unit or as a linked system, in the studio or on location.
Speaking about the fixture, Version 2 Managing Director Nick Edwards says "We've been looking into purchasing a perfect soft light solution for some time. I believe we now have the workhorse our industry has been waiting for. Alongside the fixture's power and versatility, the Gemini is both convenient and agile; the built in power supply and no external ballast means rapid deployment and fewer cables".
Pat Grosswendt, Gaffer and co-founder of Litepanels commented: "While we all work in the industry, we also realise the importance to have the gear to match any adventure production puts your way. We created the Litepanels Gemini for smart, dependable Gaffers, LD's and Crew members, which is why we are so happy that Version 2 have chosen to make it available. I personally know Nick Edwards and his team, they remind me of my business partners and I when we started this LED magic long before anyone else. Version 2 are trailblazers within the UK rental market, providing the best in both service and gear."
Edwards concludes: "The significant purchase means Version 2 now holds the UKs largest rental stock of the Litepanels Gemini – a further example of our on-going commitment to making low energy and LED alternatives readily available to Lighting Directors, Cinematographers and Crew alike".