NEWS / Sounds Like Friday Night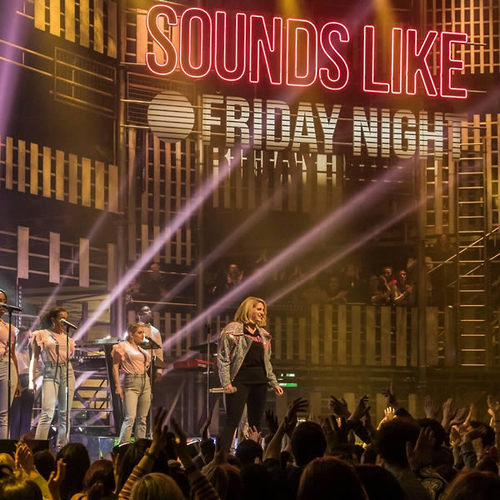 Version 2 support LD Oli Richards with prime time BBC Music Show.
Version 2 Lights are back on board with Lighting Director Oli Richards for the second series of Sounds Like Friday Night.
Returning to Studio TC1 at BBC Television Centre, the show is broadcast live on BBC One in a series of five half-hour episodes featuring live performances from some of the biggest names in global music.
A core feature of the show is its stunning stage architecture, designed by the creative Misty Buckley.The mammoth set takes up the entire footprint of the flagship TC1 studio, with its trim height soaring up into the impressive grid level at some 34 ft. above. The design provides an amphitheatre for the audience with its contours drawing influence from the iconic doughnut design of the Television Centre building.

Using Buckley's installation as his canvas Richards utilises Martin Viper Performances to give shuttered animation to the vast set. A range of ProLights LED fixtures are used to both to tone the fabric of the studio and to also provide a vibrant range of colours into camera. Vari-Lite VL1000 TS units are relied upon heavily for key lighting duties, Martin RUSH Par 2 Zooms are utilised in place of traditional floor cans. Martin MH7 Hybrid, Clay Paky Sharpy and Alpha Beam 1500s are deployed across the four stages to give a diverse array of beams.Martin Mac Aura XB Wash are installed to wash both the set and the 520-stronge audience.

The rig of 155 intelligent fixtures is installed, programed, rehearsed, performed and struck in a 24 hour period along with the colossal set. This sizeable task is undertaken in an efficient manor headed up by Crew Chief Paul Evans and BBC Gaffer Bob Bandoo. Richard's gallery team is rounded out by Console Operators Russel Grubiak and Alex Pocock, alongside Daryl Bidewell on vision supervising duties.

"It's a pleasure to be working alongside the Fulwell 73 and BBC Studioworks production teams again delivering this large scale live entertainment show" said Nick Edwards, Managing Director of Version 2. "The lighting team work incredibly hard to a challenging production schedule, the end result is a strong, bold looking show"
Photo Copyright: Fulwell 73, Photographer: David Cotter, Credit: BBC/Fulwell 73