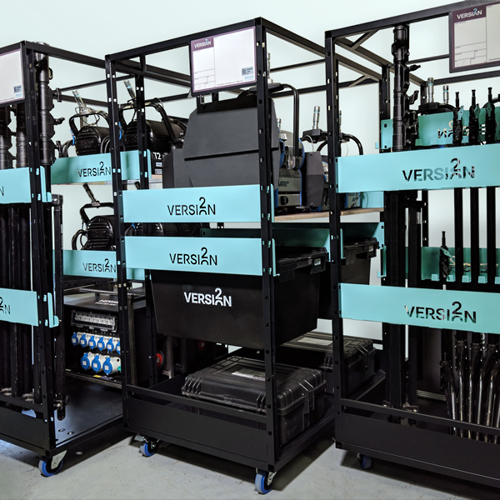 UK – Created by the Version 2 in-house Technical Team, the new Lamp Racks offer Gaffers and Lighting Directors the ability to specify custom built, transportable equipment packages.

The modular design features an adjustable racking and shelving system which can be easily configured to securely accommodate a mixture of heads and stands plus associated grip and accessories. Sturdy and flexible, the units provide convenient, organised storage and access to equipment whether in the studio or on location.
Version 2's Sam Crook says "Our new Lamp Racks have been designed with the end user in mind. The combination of adjustable fixing points, shelving and hanging options offers almost limitless possibilities to create the perfect configuration for your job. This flexibility means you get exactly the equipment you need, neatly packaged in a single work station."
Designed to fit any standard van or truck, the racks feature lockable wheels and spring loaded retention bars for secure transit. The clever, interchangeable storage options within the system allows Lamp Racks to be quickly set up prior to despatch or easily reconfigured on set. For added convenience, custom made weather covers are also available, giving extra protection from the elements when on location.
Having been successfully road tested, the Lamp Racks have already been deployed for use on a variety of productions including The Jonathan Ross Show, 8 Out of 10 Cats and The Martin Lewis Money Show.
Crook concludes "We are constantly looking at ways to enhance the user experience for all our clients. The flexibility to create bespoke Lamp Racks containing only what you need maximises the use of available transport space, delivers improved efficiencies on set and provides a cost effective solution to production. We're delighted to see them being so well received by crews on a host of projects".