NEWS / Alan Carr's Epic Game Show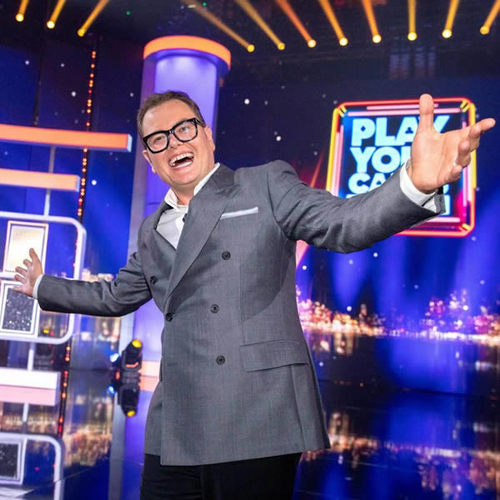 Television lighting specialists Version2 make a return to MediaCity's Dock10 with Lighting Director Tim Routledge, for Alan Carr's Epic Gameshow.
Created by Fremantle, commissioned by ITV, gameshow classics including Play Your Cards Right, Take Your Pick, Strike It Lucky all get the reboot treatment in this run of five shows. Recorded in front of a studio audience at Dock 10, each show features a custom set by Scenic Designer Dominic Tolfts, based around the look of the epic originals.
Working with award winning Lighting Director Tim Routledge, Version2 provided an extensive selection of automated fixtures, allowing the crew plenty of scope in creating individual looks for each episode.
Featuring strong blues punctuated with shards of gold, the lighting design was awash with intense colour and plenty of movement. Robe Pointe, MegaPointe and Spikies provided precise beams against the deep background washes of the Martin's Mac Aura XB and Rush Par 2 fixtures.
Taking full advantage of their capabilities, the LD used the fixtures to full effect to create dynamic visual effects, grand sweeps and rapid colour changes to complement the excitement and pace of the shows.
ProLights Lumipix battens and Astera Titan Tubes were also used to provide additional sparkle throughout the set. Extending beyond the stage to surround the audience areas, the 360 degree design added energy to the sweeping camera studio shots drawing tin he lively crowd to make them part of the action.
Speaking about the project, V2 Managing Director Nick Edwards said "Tim's huge experience in live events meant he was able to deliver some real excitement to this fun production. The changes were quick and the looks have been stunning. We've really enjoyed helping recreate the fast paced entertainment of these classic shows".
Acknowledgements
Lighting Director: Tim Routledge
Conventional Operator: Oli Lifely
Moving Light Operator: Sonya Fossett
Media Server Operator: Russell Gruibak
V2 Gaffers: Marc Henry and Mark Steeds
Scenic Designer: Dominic Tolfts