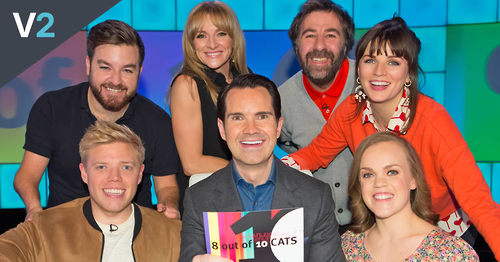 Popular panel show 8 Out of 10 Cats returned to our screens with an all new low energy lighting scheme, skillfully selected by LD Oli Richards. The shows Producers Zeppotron (Endemol Shine UK) enquired about the possibilities of introducing low-energy lighting to assist the production obtaining BAFTA Albert+ accreditation.
The original series design featured a substantial amount of tungsten fixtures which inherently came as part of the respective studios inventory. Richards has always embraced new technology throughout his career and was pro-active in reviewing low energy alternatives for this production. We subsequently arranged a lighting test at Version 2 where tungsten units were juxtaposed against their LED counterparts. The lighting tests concluded with the confirmation of our intuitive foresight.
As such we have been able to reduce the energy consumption of the CYC lighting enormously. Historically lit by 4kw Strand Iris 4 (x 32) units which are a traditional 4kw tungsten source lamps which also had to be covered with a coloured gel. Oli decided upon the new state-of-the-art LED fixture the Arri Sky Panel S60C (x 32). This change creates an energy saving of approximately 89%.
Oli was also able to swap a Tungsten 750w Source 4 or the new LED version the ETC Source 4 Lustr2 LED (x 14) this brings an energy saving of approximately 77%. The units still offer the LD the required output and consistency required for key lighting faces which is critical to any televised production.
Finally the 1kw Par 64 Can (x 14) were used to tone the stage floor with colour, which again required a coloured gel. These have now been replaced with an LED equivalent the Martin Rush Par 2 Zoom (x 14) This fixture swap brings an energy saving of 70%
Importantly the shows design has been enhanced by the introduction of new technology. Richards and his team of Operators have a greater creative pallet to enhance the vibrant mood of Partrick Doherty's set.
Charlotte Hopkinson (Production Executive) has been delighted with the end result too. The low energy lighting design is likely to reduce the production's carbon footprint significantly which is a criteria of Albert. Financial savings are expected to be achieved with reduced energy bills for both lighting and air conditioning, as well as reductions in lighting consumables.
We have been delighted to support the Production Team at 8 Out of 10 Cats. Our thanks to the manufacturers who assisted with lighting tests, and continually strive to develop products that change our industry