Wireless Solution W-DMX Black Box F1 G5 TX/RX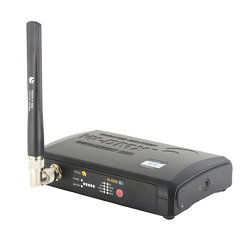 The W-DMX™ BlackBox series is an industry bell-weather for Wireless DMX and RDM control, packed into a tough, roadworthy die-cast metal casing.
The W-DMX™ BlackBox G5 uses our patented Adaptive Frequency Hopping technology to automatically avoid interference created by other wireless networks, for example W-LAN, wireless intercoms, stage automation systems and more.
G5 supports 2.4GHz, 5.2 GHZ and 5.8GHz frequency bands, these triple-band units have full RDM support (transceiver models only)
All BlackBox units are backward compatible with W-DMX™ G3 units
For links over greater distances, or for more complex projects needing one of Wireless Solution's other antenna, the N-type antenna connector allows any compatible antenna to be screwed on, quickly and easily.
Suitable for use with our SmartBAT Plus units
DMX Structure
Number of universes per device: 1
Number of DMX channels: 512
DMX latency: < 5ms
Max.Universes in coexistence: 32
Input/Output opto isolation
Error correction (Invisi-Wire)
DMX Fidelity (Data-Safe)

Radio Technology
Adaptive Frequency Hopping
W-DMX G3 & G4S compatibility
2.4 GHz
5.2 & 5.8 GHz (1)
Standard range: Up to 700m (LOS)
Expandable range: Unlimited
Sensitivity (0.1% PER): -97dBm
Modulation Method: GFSK
Normal Power Mode 2.4 GHz: 100mW
Maximum Power Mode 2.4 GHz: Up to 450mW
Connectors
DMX Connectors: XLR 3 & 5 Pin
AC Input: PowerCon
Antenna Connector: N Type
Net Weight: 1Kg
Mounting
Environmental

Temperature Range: 0 - 45C
Humidity: 90%
IP Rating: IP45

Wireless Solution W-DMX Black Box F1 G5 TX/RX - Manual