Super Wind Up Stand Black (6040X) 3.7M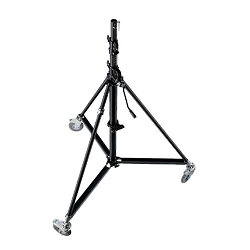 The ultra-high camera stand for any shoot. This exceptional Super Wind Up Stand does everything you need it to and more, reaching higher than most stands on the market, and enabling you to work fast and smart thanks to a full range of intuitive features.

Extends to a height of 3.7M (minimum height 1.75M) with a safe working load of 80Kg.
Features 28mm receiver
The use of sandbags is recommended for full extension or in windy outdoor conditions.