Martin JEM AF1 MKII DMX Fan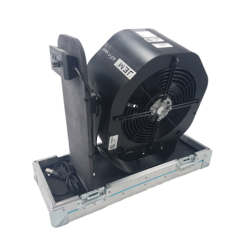 Improvements in digital electronics have made Martin's industry-standard compact fan more responsive and even more versatile. Advances in control, rotation, speed range and increment adjustment have raised the bar for quality, performance and durability. Fully DMX controllable or using a hand-held remote, it is the ideal fan for a large variety of indoor or outdoor applications from touring and stage to theme parks, cruise ships and much more.
Feature overview
Increased speed range
Instant response on speed control
Lower minimum speed
New DMX adaptor with increased resolution
Compact remote
Reduced motor noise at low speeds
Floor standing or hanging
Physical
Width: 380 mm (15.0 in.)
Height: 410.5 mm (16.2 in.)
Depth: 180 mm (7.1 in.)
Weight: 8.5 kg (18.8 lbs.)
Performance
Maximum airflow: 1815m3 per hour
Fan speed: 200-2500 rpm approx.
Control and Programming
Control options: Remote control (supplied), DMX, local test switch
Remote control features: Instant or timer-controlled output, 0-100% adjustable output level
Delay 2/255 seconds, run time 2-255 seconds
DMX channels: 1
Protocol: USITT DMX512-A
Construction
Housing: Steel
Installation
Orientation: Any
Connections
Remote control: 3-pin locking XLR
DMX data: 3-pin and 5-pin locking XLR
Power connection: 3-pin IEC
Electrical
AC power (EU models): 220-240 V nominal, 50 Hz
Main fuse (220-240 V power): 3.15 AT (slow blow)

Typical Power and Current
EU model 230 V, 50 Hz: 120 W, 0.53 A

Martin JEM AF1 MKII DMX Fan - User Guide